Wi-Fi, crow, ginger and more: these are the new emojis that you will see on your mobile very soon
We already have new candidates to enter the Emoji 15.0 standard of the Unicode consortium, discover them!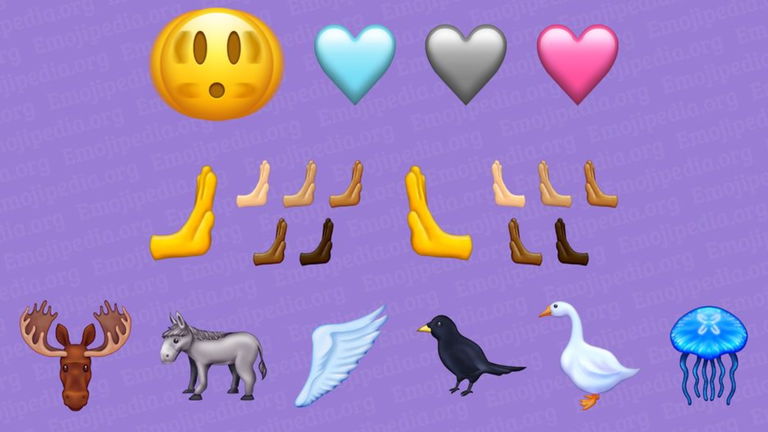 Get ready to welcome a new emoji collection It's coming to all major platforms, apps, and operating systems soon. Since the blog of Emojipedia we have been given the opportunity to take a first look at the different candidate emojis to be introduced in the Unicode Emoji standard, starting next September.
The candidates to enter the Emoji 15.0 standard are varied, and include some such as the Wi-Fi connection symbol, pink, gray and light blue heartsanimals like the donkey or medusaand other more striking elements, such as the Sixk symbol or ginger.
They must be approved before entering the Emoji 15.0 standard
Although the design of the emojis is not yet definitive, their appearance follows the design lines of the Emoji standard, and most likely the final version will not be very different from what we can see today. Also, some platforms, such as Android, Windows or One UI use their own styles for their emojis.
In addition to that, keep in mind that this list is just a draft with the candidates, and changes are possible up to the time of its introduction in the standard.
Of the new emojis that could arrive at the end of 2022 or the beginning of 2023, the pink heart emoji inclusiona symbol that users have been asking for for years, and that now, at last, could be introduced.
Also relevant is the wide variety of animal species that we can find in the Emoji standard with each update. In this case, we find goose, crow, moose, donkey and jellyfish among the candidates to enter.
If the estimates do not fail, the Ultimate Emoji 15.0 List It will be published in September this year. Among october and decemberGoogle would incorporate these new emojis in Android thanks to the improvements carried out in the operating system, which allow accelerate the arrival of new emojis.
The meaning of WhatsApp emojis
From that moment on, the rest of the platforms, applications and operating systems will add support for the Emoji 15.0 standard, adding to the list of available emojis the candidates make it to the next phase.