Why I prefer Chromecast with Google TV to Amazon's Fire TV Stick 4K Max
The technical differences are minimal, but today we are talking about sensations and user experience.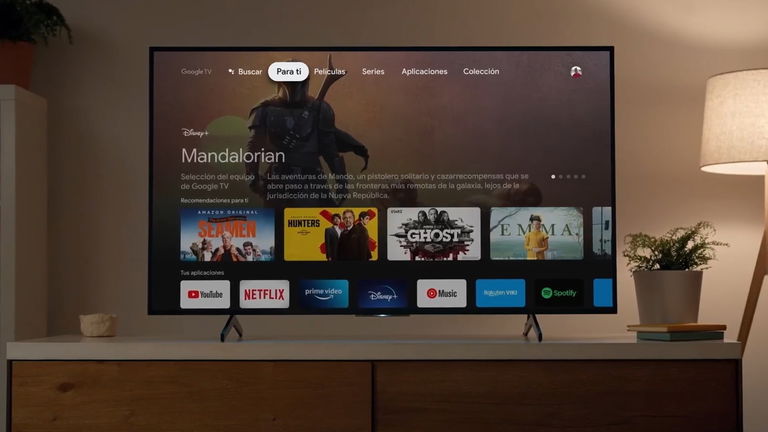 If I have to buy right now out of necessity a TV stickI would not opt ​​for the Amazon one, nor in its top version such as the Fire TV Stick 4K Max nor the Cube version. Google is the creator of Android, and therefore knows your system like nobody else. Chromecast with Google TV is superior to the Amazon device by several reasons.
Although the Google device has a more or less equal price and, sometimes, superior to the top of Amazon in its Fire TV section, having the Google one entails a number of advantages or not disadvantages that we do see in Amazon. Right now its official price is 69.99, but we can find it on Amazon for about 59 euros.
I recommend the Chromecast with Google TV before a Fire TV
For several reasons i choose google devicenot only economic, but many others that have to do with the user experience, the complete freedom of use and a better adaptation of the base system which is, in both cases, Android.
user experienceNote: The main screen on a Fire TV is a bit (quite) messy. All the content is intermixed from the beginning, then they divide it for you by platform, but it's too late. With Google's Chromecast you are the one who runs the show, you are the one who chooses what should come out in that 'Home' and what content you want to have priority.
Construction materials: Google's device is made from recycled materials, especially the plastic that covers it. As a person who cares about the planet, it's a plus that many overlook.
Advertising: Fire TV has built-in subliminal advertising for all Prime Video content. It is true that they are ads for the same content that is offered on the device, but it is not pleasant to be bombarded with it if what I prefer is to watch content from Netflix or Disney + at that time, among other platforms or apps. You can configure the Google TV menu so that the content you choose or none appears, that's how you like it.
HBO Max (limitation)Note: This platform cannot be installed natively and easily on an Amazon Fire TV Stick. You must resort to third-party apps, to install external .APKs to be able to have HBO Max on your Fire TV. This, with Amazon's return policies, is incompatible, and we could lose the guarantee. In a Chromecast with Google TV we do not have this limitation because we have the Google Play Store with all the available apps.
It is not that the Fire TV Stick in all its versions is a bad device, but that I prefer not to have to depend on one app store like Amazon so limitedor having to swallow Prime Video advertising when I don't feel like it, or being able to have the freedom to install the apps that I consider appropriate. The Chromecast with Google TV has a system, Android TVbasic, made by and for this device, and that, as with iOS and the iPhone, is something that is appreciated on a daily basis.
For you