WhatsApp is updated with blocking of screenshots, mode "stealth" and more news
Mark Zuckerberg himself has been in charge of announcing the new privacy features that come to the application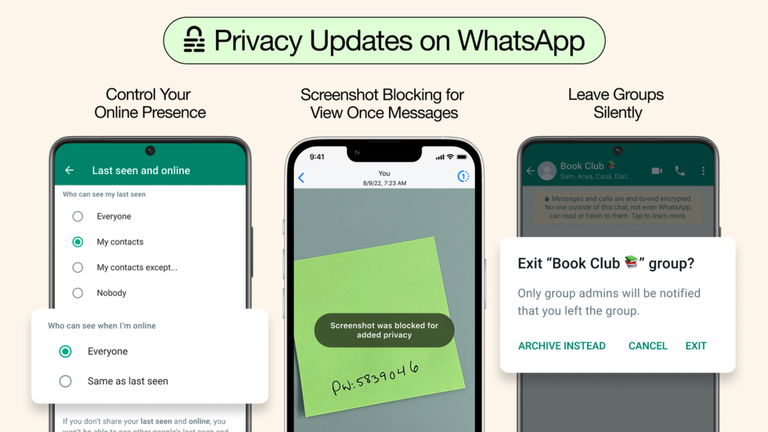 A new update is on its way to WhatsAppand this time it comes loaded with three useful news aimed at improving the privacy of users within the application.
Own mark zuckerberg has been in charge of making public the changes that are going to come to the messaging application, and that will allow users to leave groups without making noise, block screenshots or control more precisely who can see your status within the app.
Mark Zuckerberg confirms three new privacy features in WhatsApp
In the announcement, Zuckerberg has announced the different new features that are going to arrive in the messaging application starting today. The first of the changes will allow users control who can see if you are "Online". To do this, simply change the visibility settings from the WhatsApp privacy settings menu.
On the other hand, WhatsApp launches the option of block taking screenshots in temporary messages.
Also, from now on it will be possible leave the groups without notifying the participants thanks to the baptized as "stealth mode". It is worth mentioning that, although the rest of the group participants will not be notified when we leave the chat using this mode, they will still be able to tell if we have left the group through the new menu former participants of the chat.
WhatsApp already allows you to react to States with emojis
Some of the announced news have already begun to arrive in the application, starting with the whatsapp beta version. Over the next few days, all app users should be able to start enjoying the changes.
To all these changes must be added the extension in the limit to delete messages already sentwhich goes from one to sixty hours.