This Xiaomi projector is my recommendation for movies, series and games cheaper than the competition
One of the great creations of the Chinese manufacturer that hits the table with this gadget for less than 600 euros.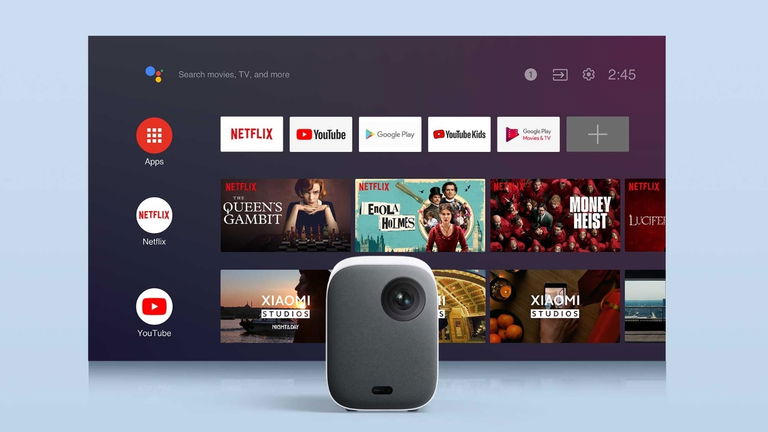 As in the field of smartphones, in the panorama of high quality home projectors we have several manufacturers that share the cake. Optoma, BenQ, Viewsonic or Epson are firms in whose catalogs we find the best short throw projectors and long of the market for the home. But Xiaomi could not be still and has entered the full rag.
Xiaomi carries several compact projectors to his credit. Some of them 1080p and others 4K, but today we want to talk to you about My Smart Projector 2a small and very light LED projector that is astonishing everyone who gets hold of it. Its price is very adjusted for what it offers and it is my recommendation of the weekend to set up a movie home theater.
Get a home theater thanks to Xiaomi
The quality of this projector is remarkable in all its aspects. Due to the materials used, the definition of the images and the sound system that it integrates, we speak of a highly recommended projector for any home that is worth This projector has a throw that can offer from 60 to 120 inches of screen. A 1.6 meters 60 inches and the 120″ to 3.2 meters of distance approximately (data very to take into account to know where to place the projector and where the projection screen). These distances are optimal to enjoy 100% of your projector. Their 500 ANSI lumen illumination It ensures good brightness in situations with low daylight, and fantastic at night (as with all projectors that do not cost 5,000 euros and up).
The device itself weighs only 1.3 kg and dimensions of 115 x 150 x 150 mm. Its maximum operating power is only 65W and is powered by a 19V 3.42A power adapter (included in the box). This projector has 1080p native resolution (Full HD) with an aspect ratio of 1.2:1. It has auto focus so you don't miss a detail. It is very quiet, only 28 dB of noise, you can take a nap while you project the Discovery Channel documentaries in mode mute. This Mi Smart Projector 2 uses RGB+BP LED technology of projection with which it uses 4 channels to obtain some brighter, more natural colors in any content worth its salt.
Since I have a projector at home I can't live without it to watch movies like in the cinema.
This projector has a female thread on the base that allows us to place it on a tripod, like that of reflex cameras. You can also place it on a table, a stack of books, or a chair if you prefer. And if you want to place it upside down from the roof too you can with a adapted supportThere are many lengths and possibilities. It does not matter where you place the device, because it has multi-angle automatic keystone correction 45° on the X and Y axes and 15° on the Z axis.
One thing that has surprised us about this Xiaomi projector is its integrated sound. Have a speaker that achieves two-channel virtual surround sound compatible with Dolby Audio. And one of his virtues, Native AndroidTV with which you can live the full experience of downloading apps and games from the Google Play Storeconnect a bluetooth controller to play, wireless headphones or peripherals such as keyboards or mice.
As for the ports that it integrates, we have HDMI, USB and headphone port 3.5mm jack. By having Android TV, integrate Chromecast so we can quickly project the screen of our smartphone on the projector. The reflection of light on the projection screen or the wall is diffuse, so eye fatigue is reduced compared to how a television casts light on us.
If you are thinking of buying a projector, you are looking at Optoma and BenQ models as the most recommended for these prices, I encourage you to give this one from Xiaomi a tryYou will not be disappointed at all.