This ultra-resistant watch reaches historical lows: AMOLED screen and up to 60 days of battery
Great discount for the Amazfit T-Rex, which reaches its historical low on Amazon. Be careful, because there is a deadline for this offer.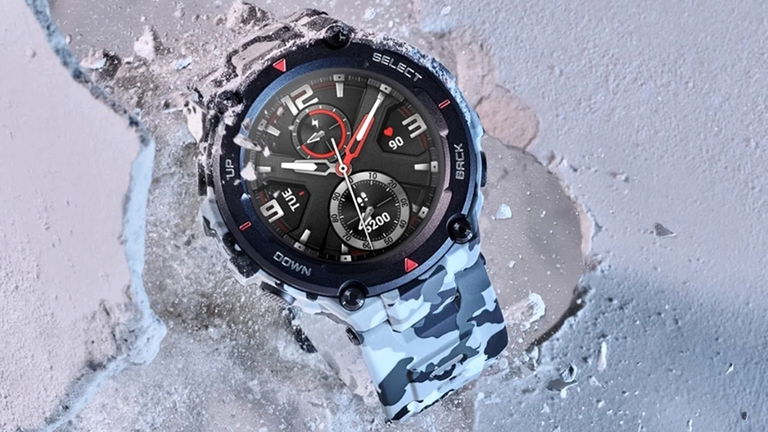 The Amazfit T-Rex it's a Smart watch with an ultra-resistant design that can also boast a good AMOLED screen, extensive sports and health functions, and an autonomy of up to 60 days. Overall, it's a very good buy, especially now that its price has plummeted to €85.80 in amazon in the "CamoGreen" version. To do this, you just have to activate the box "Apply €30 coupon".
There are several details to take into account, for example, that this price is one of the lowest that the Amazfit T-Rex has had since it was on sale. You can get a smartwatch that will withstand all your outdoor adventures for only 85.80 euros, but always keeping in mind that Amazon discount will only be available for a few days. Do not let time pass, because you may find that the watch has returned to its original price when you want to buy it.
Another point in favor is that, if you are subscribed to Amazon-Prime, you will receive the Amazfit T-Rex at home the next day of the purchase. The "CamoGreen" model is the cheapest, but the others available also drop in price. Next, we review why it is worth the purchase of this monster in the shape of a smart watch.
Buy the Amazfit T-Rex at the best price
The Amazfit T-Rex is a smartwatch focused on sports and outdoor use. For this, it has an ultra-resistant design that meets 12 military certifications, such as resistance to temperatures up to 70 degrees. It is also resistant its robust body, specifically made to withstand all your adventures. In addition, it has a comfortable and breathable strap.
Another plus point is the quality of its 1.36-inch AMOLED screen with a resolution of 360 x 360 pixels, which offers images with good sharpness, colors and brightness when viewed in sunlight. This screen is protected with Corning Gorilla glass 3 and, being tactile, it allows us to interact with the clock, something for which the two buttons on the right side.
Click on "Apply €30 discount" and proceed to the purchase to take this Amazfit T-Rex for only 85.80 euros.
To get the most out of its functions, it is best to connect this Amazfit T-Rex with your mobile phone. Thus, you can check the weather information, receive notifications from apps and control music playback, among other options. To connect to mobile, use connectivity Bluetooth 5.0.
By using the watch app on your mobile, you can see in great detail the data collected by all its sensors. If you use it to play sports, you can use 14 different sports modes, with GPS and water resistance included for swimming. On the other hand, the Amazfit T-Rex takes care of measure your heart rate constantly, especially important when you play sports.
You can use this smartwatch for hours and hours without having to go through the charger. This is possible thanks to a 390 mAh battery that can hold up to 20 days if we keep all its functions activated. In case of dispensing with them and opting for the basic mode, the autonomy can get up to 60 days. Another option is to keep the GPS always activated during your excursions, in which case you will enjoy 20 hours of battery life.
Definitely, the Amazfit T-Rex has everything you need on a smart watch. To these features is now added a special Amazon discount that makes collapse its price to 85.80 euros. Do not miss the opportunity and get this great smartwatch.