This television with integrated Android TV and Alexa collapses at almost half its price
One of the best ways to entertain yourself at home is to have a good TV and thousands of contents.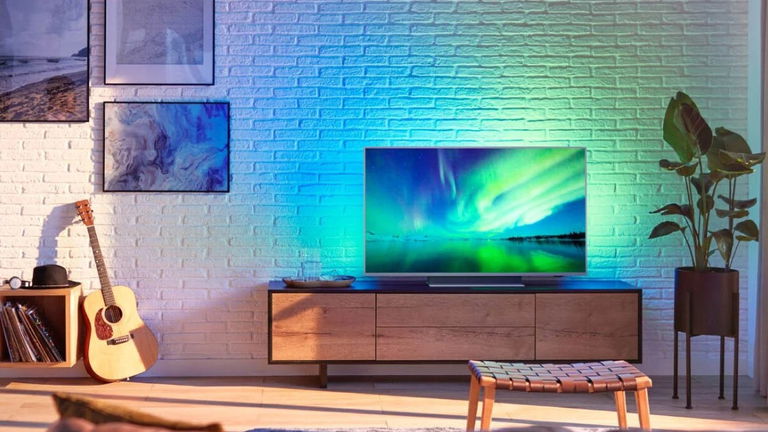 For fully experience a movie or series at home you must create a special atmosphere and this television does so, without you doing anything (well, turn off the lights better). We have found a huge television with Android TV in its guts, Ambilight smart lighting, virtual assistant and a minimum energy consumption (A+) by 829.99 €499.99. You save 40% in one of the best televisions on the market for this price with Android.
This is the Philips PUS7504 from 55 inches and 4K resolution that arrives at this price in Amazon's September offers. Of course, I did not know television with such low energy consumption from some OLEDs. With this television you will enjoy each scene with its smart lighting that changes colors according to what you see on the screen.
Buy a very good and cheap television
First of all, we are facing a high-quality television despite its low price. We have a very good 55-inch IPS panel with 4K resolution native, support for content in HDR10+ and Dolby Atmosso we can see the highest quality content of this type on platforms such as Netflix, Prime Video either Disney+, among others. He also integrates a ambient light sensor to automatically regulate the brightness, and thus not damage our eyes when the light drops.
One of the aspects that catches our attention is its integrated sound system in the base. We have two 6.25 W RMS speakers each and a 12.5 W subwoofer (total 24 W RMS) behind the grid covering the central base from the television. This system is very hidden, but it works wonderfully, it is compatible with Dolby Atmos and creates an environment, together with the Ambilight, fantastic.
Live a movie with Ambilight and then tell us about your experience.
We have Android TV 9 integrated and 16 GB of memory internal. This duo makes it easy for us to install all kinds of apps and games from the Google store. Images and apps will move like a charm due to the ARM Cortex-A53 quad-core processor that is the heart of the TV and its 3GB RAM. Thanks also to having Alexa or Google Assistant integrated into the system, we will be able to request content and search for apps with our voice without having to use the cumbersome on-screen keyboard of the TV.
In the back we have the ports that will expand the user experience if possible: 4 HDMI, 2 USB, optical audio output, 2 3.5mm jack outputs, network Ethernet input, antenna and satellite input. TV has a weight without base of 16.3 kg and you can hang it on the wall with a 200x300mm VESA mount. It is a fantastic opportunity to get a television with integrated Android TV and the Ambilight lighting system without spending more than 1,000 on an OLED-type Sony or Philips.