This Samsung Galaxy with 5G and Android 12 falls to its historical minimum, 219 euros
It is the perfect alternative to Xiaomi's Redmi Note 11 Pro for 2022.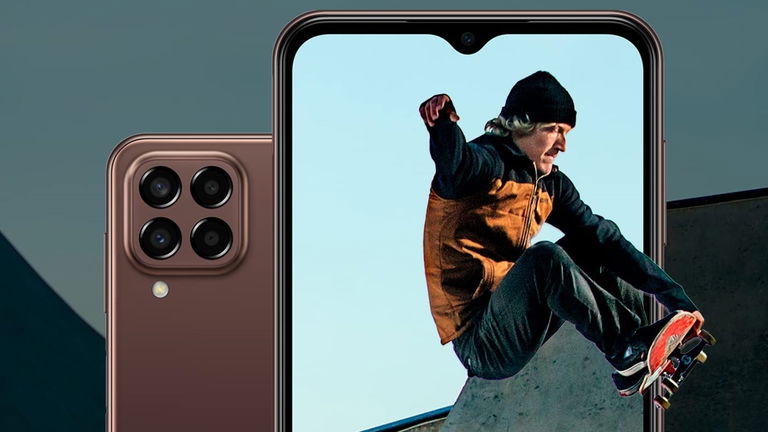 In the field of phones for about 200 euros Xiaomi has the upper hand, since it brings together a large number of models of the Redmi family and Redmi Note with very good results. However, in this price range there is no longer only the Chinese giantwell Samsung has a lot to say now that he's focused on the mid-range. today this Galaxy M33 5G touch its lowest price, 359 219 euros on Amazon.
Only two of the colors can be purchased at this great price, blue and brown. It has the ultimate in power, a great batterya very good screen, expandable memory and 5G mobile connectivity, something that should already be implemented in all smartphones, but there are still some loopholes of 4G. The Galaxy M family grows this year and does so in a big way and with quality to spare.
Samsung Galaxy M33 5G (6/128GB)
Buy the best Galaxy 5G for about 200 euros
Despite being a smartphone presented in March 2022, on the Samsung website it is already discontinued and you can only buy it outside the official site. It is a terminal plastic finish, with 9.4 mm thickness and 198 grams of weight. It is a smartphone that has the fingerprint reader on the side right side of your body and with internal cooling.
ride a 6.6-inch IPS panelwith resolution Full HD+, refresh rate at 120 HzGorilla Glass 5 protection, rounded 2.5D-type glass on the edges and a drop-type notch where it hides, in addition to the proximity and lighting sensors, its 8MP front camera which more than meets
The Galaxy M33 5G is a remarkable mobile in every way.
Samsung uses its own processors again in this new stage in the mid-range. On this occasion we have the pleasure of using the Exynos 1280, a 5nm CPU running at 2.4GHz and capable of running all apps and games reliably. It comes along with its inseparable Mali-G68 GPU. In this model we have 6GB of RAM and 128GB of storage internal expandable with micro SD cards. This hardware manages to exceed 420,000 points in the Antutu performance test.
In the back we have a 50 MP quad camera accompanied by a 5 MP wide angle, 2 MP macro lens and 2 MP portrait mode. We can record videos in 4K and slow motion at 240 fps with autofocus. The battery of this Galaxy M33 5G is beastlyadding a total of 5,000 mAh with a fast charge at 25 W and being able to reach the 2 full days of use they are problems.
Samsung Galaxy M33 5G (6/128GB)
Comes with android 12 of series and will receive, with total security, at least 2 future versions of Android. As for connectivity, we have a very complete mobile: 5G, headphone port, NFC, WiFi 5, Bluetooth 5.0, GPS and Dual SIM.