Samsung Knox keeps your Galaxy secure right out of the box: Here's how it does it
Did you know all that Samsung Knox can do to protect your privacy?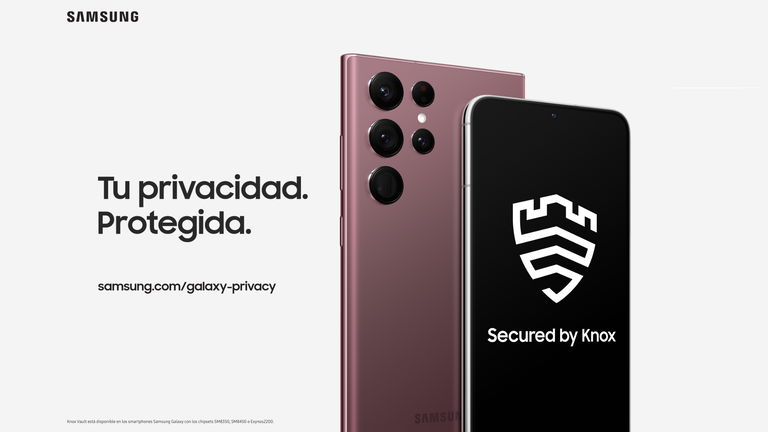 When choosing a new smartphone, it is important to analyze aspects such as the processor, the battery or the camera. However, sometimes such an important aspect is often relegated to the background, or perhaps even more so than those mentioned above: safety.
Not all mobiles are equally safeand that is something to keep in mind, even more so in these times, when most of us we store sensitive data and private information that we probably don't want it to fall into the wrong hands.
This is where the protection systems integrated into our devices come into play. During years, samsung-knox It has been one of the most popular methods of this type, and one of the best valued, both by users and by professionals and cybersecurity experts.
But, what makes Samsung Knox such a special system?
First of all: what is Knox and how does it work?
We can define samsung-knox like a security platform that combines various solutions, with the aim of keeping users' private information safe.
Knox is not just a software-based system: certified devices Secured by Knox they have multiple layers of hardware and software security enabled at all times, and the Knox platform is built into the smartphone, tablet, or wearable device's own chipset during manufacturing.
To this day, Knox already protects over 1 billion Samsung devices worldwide, managing more than 70 million devices every day.
In addition, the solutions integrated in Knox are perfect for professionals and companies, and there are already more than 20000 companies who use Knox services around the world.
What protection measures does Samsung Knox offer?
inside the platform samsung-knoxit is possible to find various services and tools aimed at protect users and their data stored on devices.
Among its most important functions, we can find the following:
malware protection
Android is one of the main platforms targeted by hackers, and every so often we have to report new attacks targeting Google's mobile platform.
On certified Galaxy devices Secured By Knoxreal-time protection against malware and suspicious threats is included, capable of preventing any modification of the software immediately.
Secure Folder
Without a doubt, one of the most convenient features of Knox: with Secure Folder it is possible to create a private and encrypted spacewhere it is possible to store private data and applications that we do not want to be visible to other users.
Knox Vault
Vault is a function integrated in Knox, which puts all those private data safe. Think of this function as a safe, inside another safe. In it, PINs, passwords, biometrics and other sensitive information are physically isolated, which remains protected against any type of attack or threat.
Knox is a tamper-resistant environment, certified by EAL5+. Through laboratory tests, it has been determined that not even hackers equipped with lasers and blackout tactics have not been able to break Knox Vault: if the sensors detect any type of physical intrusion, the device is locked to prevent data theft.
location monitoring
Samsung Knox also takes the system's native permissions management further, giving the user the option to control which apps have access to locationand when they have it.
Advertising exclusion
One Knox function that can be overlooked but is really useful is the advertising opt-out. With it, you can choose which apps can show ads, and which ones don't.
privacy indicators
Have you ever suspected that they spy on you through your mobile? If you have a Knox-protected Samsung device, privacy indicators they will notify you in real time if an app is trying to access your device's microphone, camera or location.
All devices protected by Knox have access to these protection features from minute oneso that you don't have to worry about the security of your data, and can focus solely on enjoying the experience from the moment you start using your device.