Samsung confirms the presentation of its new folding phones: it will be held on August 10
It's official! Samsung will hold its next Unpacke event on August 10, and it will present the new Galaxy Z, Galaxy Watch and Galaxy Buds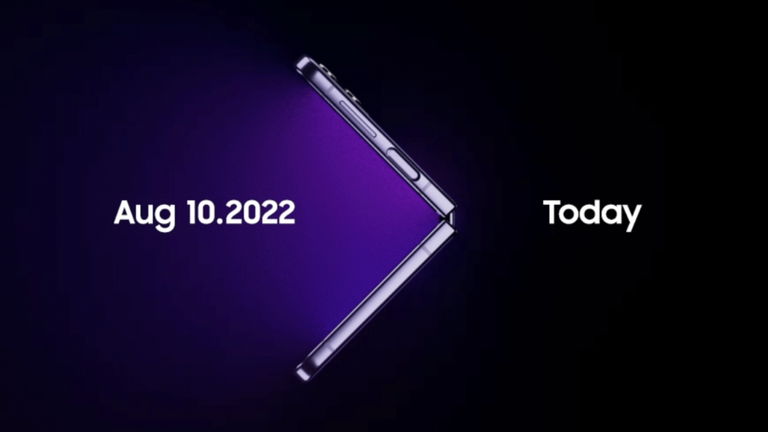 Just like we were warning for a few days, the new Samsung Galaxy Z Flip 4 and Z Fold 4 They already have an official presentation date. The Unpacked event where Samsung plans to announce its new foldable devices to the world will be held on August 10just like the brand has confirmed on its official news blog.
The invitation to the event leaves no room for doubt: Samsung Galaxy Z Flip 4 will be present in the Unpacked, as can be seen in the teaser that the company has shared, where you can also see features of the new large format folding of the company, the Samsung Galaxy ZFold 4.
New violet color for the Galaxy Z of 2022, which will be presented on August 10
The teaser published by Samsung confirms, in addition to the existence of its new folding phones, the existence of a new star color for this device family: the violet.
Both models would arrive in light purple, as already we could see in the last leak which allowed us to take a closer look at the different colors in which the terminals will be available once they land on the market.
Samsung invites us to stay tuned to learn "how the company is pushing boundaries, challenging conventions and opening doors to new experiences." In addition to the new folding smartphones, the company is expected to announce a new generation of its star smartwatch, the Samsung Galaxy Watch 5as well as the second generation of high-end fully wireless headphones, the Samsung Galaxy Buds Pro 2.
The presentation event will be broadcast through the company's channels on August 10 starting at 15:00 Spanish time.