One of the best RPG for Android is free only today, take advantage!
Today you can get one of the best role-playing games for Android totally free: for a few hours its price has a 100% discount.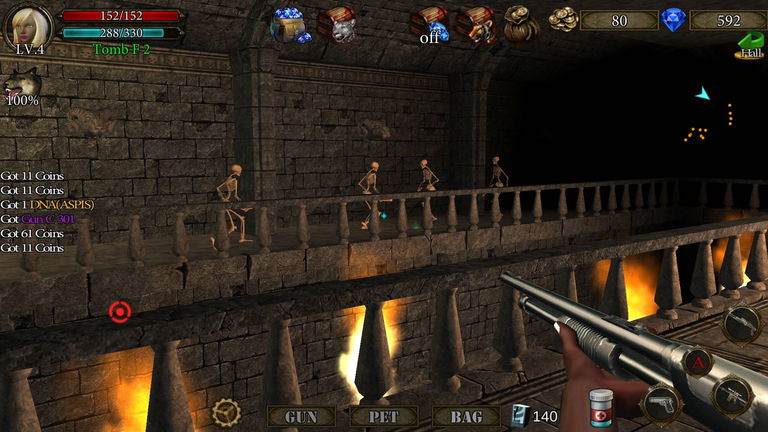 Today you have the opportunity to take advantage of the offers Google Play Store and get one of the best RPG games for Android by way of completely free.
This is Dungeon Shooter: Dark Temple, a game that has more than a million downloads and with a score of 4.3 out of 5 in the app store Google and that it can be yours, only today, without paying a penny.
Dungeon Shooter: Dark Temple can be downloaded for free for a few hours
Dungeon Shooter : Dark Temple en a popular RPG game developed by IMCrazya company that has other paid titles for Android such as Hero Z or Tomb Hunter Pro.
This is a first person RPG game in which you will put yourself in the shoes of a shooter who will have to enter ancient tombs and dungeons to get weapons, treasures and accessories.
As you progress through the game, you will be able to improve the qualities of your character and their pets in order to get defeat increasingly powerful monsters.
Also, this title has four game modeseach of which has its own history and dynamics:
forgotten temple: This is a game mode set in the underground darkness where a lot of monsters attack the temple and you have to use the God mode (FPS) to protect the defense tower with your pets to get succulent rewards
cave of death: This mode places you in the two chambers of the cave of death, in which you will play as the prey of the devil, having to escape from the hunt of darkness. When you collect 3 gems, the devil will be weakened, and at that time, you can kill the demon, all rare items will be removed
undead-sand: In this mode you will have to use your pets to compete with the arena boss zombies and by doing so you will get high value rewards
Treasure hunt: In this game mode your mission will be to find the numerous treasures buried in the dark ancient tombs, which are guarded by ferocious monsters, so you will have to work hard to get them
Top 58 Free Android Games to Play in 2022
Normally, the price of Dungeon Shooter: Dark Temple is €2.99. However, during the next few hours you will be able to download it completely free. The game is compatible with any Android device running a version higher than Android 4.4, and contains some unlockable items through purchases in-app What's up? from 1.19 euros to 114.99 euros.