New Insta360 Link: one of the most advanced 4K webcams on the market is now official
If you are looking for a new webcam, take a look at the Insta360 Link, a perfect 4K camera for your video calls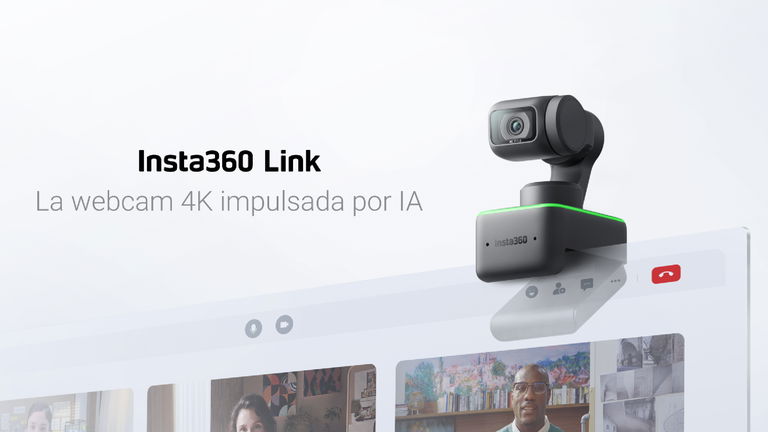 Insta360 has become one of the most reputable firms in recent years in the field of image focused, specializing mainly in action and professional cameras. Now, the brand has decided to enter a booming segment thanks to the increase in the number of people who telecommute: the one with the webcams.
The new one Insta360 Link is the first webcam of the brand, and how could it be otherwise, inherits some of the most important features of the rest of the cameras that make up the company's catalog, including gimbal-type stabilization or AI systems that promise to provide a superior image quality.
Insta360 Link, all the information
Insta360 Link
Characteristic
Dimensions
69×41×45mm
106 grams
video resolution
[email protected]/25/30fps, [email protected]/25/30/50/60fps, [email protected]/25/30/50/60fps
Video encoding format
H.264 (all resolutions and frame rates), MJPEG ([email protected]/25fps, 1080p all frame rates, 720p all frame rates)
ISO
100-3200
shutter speed
1/8000-1/30s
Sensor
1/2″
Opening
f/1.8
35mm equivalent focal length
26mm
modes
Portrait, Whiteboard, DeskView, Aerial
zoom
Digital, up to 4x
other functions
HDR
AI Tracking
Built-in clip for PC mounting
USB 2.0 connection
touch button
Insta360 Link is a compact format webcamwhich despite its small size incorporates a 1/2″ sensor capable of capturing images at 4K resolution. The video captured by the camera reaches a frame rate of 30 FPS at 4K resolution, and is compatible with HDR mode.
From the Link Controller application, it is also possible to modify resolution and rate frames per second. The user is also given the option to modify parameters such as brightness, exposure or white balance.
It is equipped with a stabilization system three axis gimbaland thanks to AI-based algorithms, the camera is able to keep the subject in focus at all times. This, added to the system phase detection autofocusensures that images are not blurred and that movements are fluid.
The Insta360 Link has been created to meet the needs of all types of users. To do this, it incorporates various operating modes depending on the type of use you want to give it:
Whiteboard mode— Highlights a designated whiteboard area to give students or meeting participants a much clearer view.
Portrait mode– Live streaming with a 9:16 uncropped view for optimal mobile viewing and better picture quality.
Air Mode– Capture perfectly level top-down views with Link mounted on a tabletop stand, perfect for unboxing a product or showcasing a design.Privacy mode: When a call has ended, Link's lens will automatically point down after 10 seconds of inactivity to preserve privacy.
Insta360 Link will be available for purchase from August 2, 2022 through Insta360.com and through some authorized resellers.
Its official price is 369.99 euros, and includes the webcam, 4 reusable whiteboard recognition markers, a USB-C cable and a USB-C to A adapter included in the box. The support